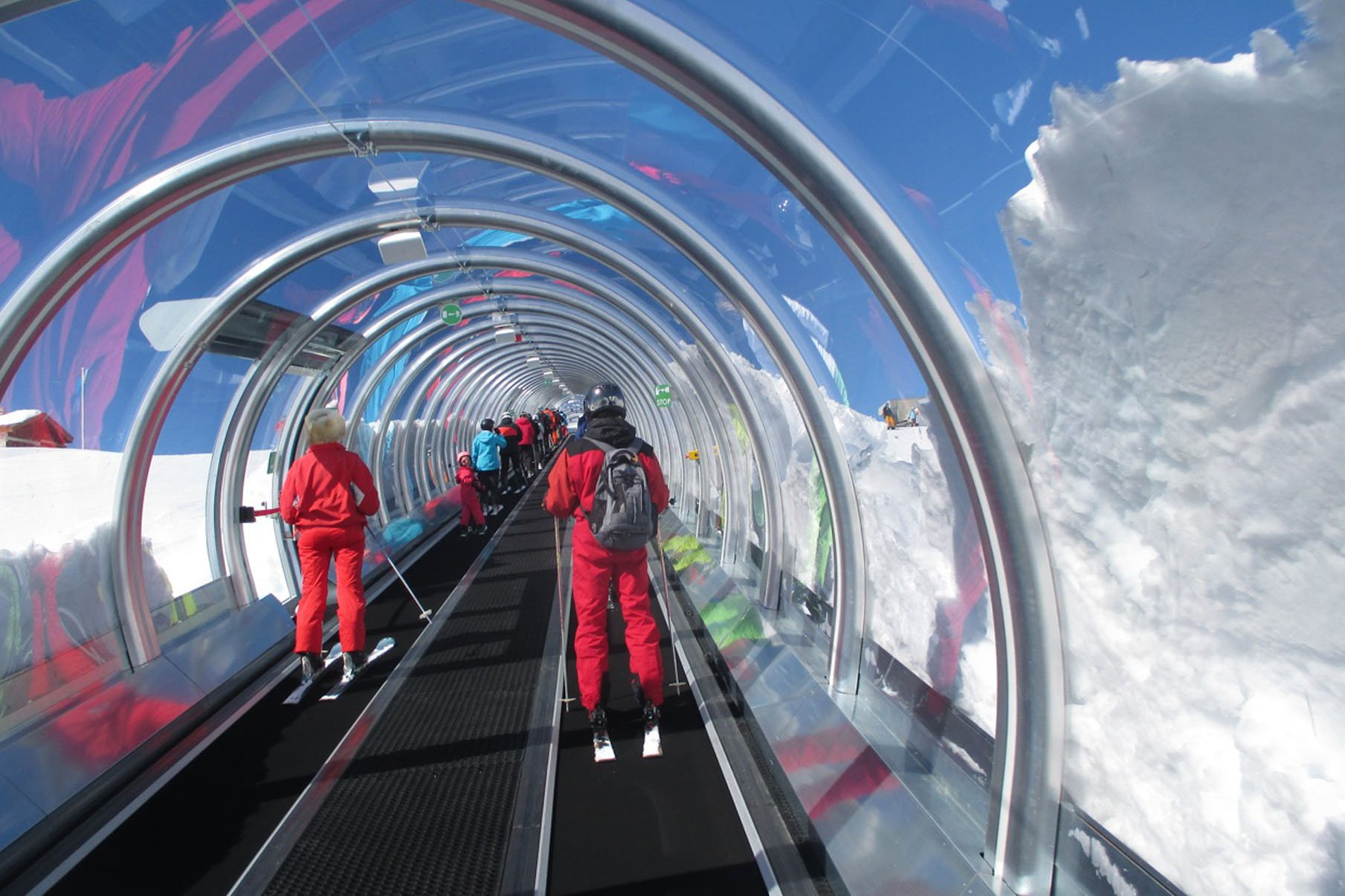 THE LIFTS
The 99 lifts spreading the ten miles across Val d'Isère and Tignes can now carry 161,000 skiers per hour. On the busiest day of the season, that gives each skier a ride every 15 minutes. On an average day, every 7 minutes! (Particularly useless statistics, since no-one can go up and come back down that fast. But they explain why there is so little queueing.)
The big excitement at the moment comes from the brand-new Solaise mega-bubble. With its sit-down cabins, heated seats and wifi, it is certainly a step up from the 74-year old cable car and the queue-prone Solaise Express quad. It will carry more people, faster, and drop them closer to the rapid Madeleine, Glacier and Datcha chairlifts. And now that a whole ski class and its instructor can go up Solaise together, the top is being turned into a beginners' area. With good snow guaranteed, beginners will quickly graduate to the easy Madeleine piste, then the sky's the limit!
All together, the nine major lifts from Val d'Isère village can take 16,500 people per hour up the various mountains. They include the Olympique (the world's biggest sit-down cable car), the new Solaise mega-bubble, the six-seat Laisinant Express chair lift, which gives rapid access to some superb slopes while sitting with your five best friends, and the high-speed Funival underground funicular from La Daille – still the world's fastest ski lift.
With all these lifts from the valley floor, morning queues, even during school holidays, move quickly. The rapid six-seat up-and-over to and from Le Fornet and the incredible eight-seater to Tignes have also helped reduce waiting time and increase skiing time in recent seasons.
Most of Val d'Isère's lifts are long and rapid, travelling vertically more than horizontally, so there's a lot of skiing back down for a short trip up. Boffins really notice how well they all intermesh, without bottlenecks or cul de sacs. The hands-free lift passes work very smoothly.
The STVI, Val d'Isère's lift company, runs not only the better half of the world's best lift system, but also the very efficient free buses, frequent by day and regular until 2.30am. Everybody uses them. With a bus stop every hundred yards or so, walking, particularly in ski boots, is cut to the minimum.