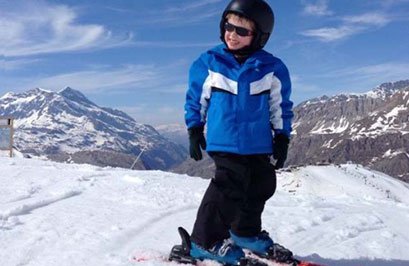 CHILDREN'S DISCOUNTS
Under 2: we charge £125 which entitles the baby to a coach seat but no plane seat (the baby sits on an adult's lap), and the use of a high chair, travel cot and quilt in the chalet, puréed for babies, but no proper bed or baby-sitting. If a child requires more than puréed food, there is a £30 charge in addition to the £125. If you are underoccupying a chalet and paying an empty bed charge, we do not then charge for a baby as well.
Ages 2–12: £50 off per week in standard beds. Please note that children in extra beds do not receive this child discount.
Under-17s can be taken to any chalet when one group fills it. Please tell us the ages of any children in your party.
Parties not filling chalets can take children from 5 upwards to various of our larger chalets on 11, 18 and 26 December 2016; 2 January; 12 and 19 February; 26 March; 2, 9 and 16 April 2017. Please email or call us for further details.
La Moraine: Different child discounts apply to Chalet La Moraine. For stays of 4-7 nights, children aged 2-12 receive a discount of £25 and for stays of 8 nights or more the discount is £50.