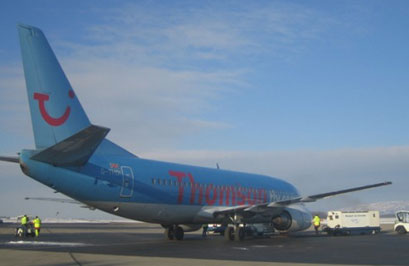 YSE FLIGHT DETAILS
OUTBOUND ITINERARY (from 7 January)
YSE flight number: TOM 4758
Airport/Terminal: Gatwick North Terminal
Check-in: from 07.00
Departure time: 10.00
Arrival time: 12.40 Grenoble
INBOUND ITINERARY (from 7 January)
YSE flight number: TOM 4759
Airport/Terminal: Grenoble
Check-in: 11.20
Departure time: 13.50
Arrival time: 14.25 Gatwick North Terminal
___________________________________
OUTBOUND ITINERARY (20 and 27 December and 3 January)
YSE flight number: TOM 4758
Airport/Terminal: Gatwick North Terminal
Check-in: from 11.00
Departure time: 13.20
Arrival time: 16.00 Grenoble
INBOUND ITINERARY (20 and 27 December and 3 January)
YSE flight number: TOM 4759
Airport/Terminal: Grenoble
Check-in: 14.40
Departure time: 17.10
Arrival time: 17.45 Gatwick North Terminal
All timings above are local.
Infants under 2 do not have a flight seat, but travel on an adult's lap with an infant's seat strap.
Please note that you cannot check in online for the above flights (passengers are pre-seated in advance by the airline). You will not be charged for checking in at Gatwick.
TRANSFERS
On arrival at Grenoble airport, you will be met by YSE representatives who will show you to our coaches. The approximate transfer time to Val d'Isère is 2 hours 45 minutes. You may buy your ski passes on the coach transfer using euros or sterling cash, or a credit card.
Infants under 2 are allocated a coach seat.
FIRST AND LAST WEEKS OF THE SEASON
(6 and 13 December 2017 and 15 and 22 April 2018)
We do not operate a charter flight for the first two and last two weeks of the season.
6-13 December 2017: We will provide a transfer from Geneva Airport to Val d'Isère (leaving at 18.00) on 6 December and a transfer from Val d'Isère to Geneva (leaving chalets from 09.30) on 13 December and we ask you to book your own return flights to Geneva to tie in with these transfer time (departing after 15.00), or, for £25 per booking, we'll book one for you.
13-20 December 2017: Holidays for this week include all transport except the outbound flight on 13 December. We will provide your transfer from Geneva to Val d'Isère (departing from Geneva airport at 18.00) and you can book a low-cost scheduled flight for yourself, or, if you would like us to book your flight we charge £25 per booking. On 20 December you will travel by coach to Grenoble and take the YSE flight back to Gatwick, landing at 17.45.
15-22 April 2018: Holidays for this week include all the transport except the inbound flight on 22 April. You will fly out on the YSE flight from Gatwick to Grenoble from where our transfer coaches will take you to Val d'Isère. On 22 April our transfer coach will leave our chalets from 08.00) and we ask you to book your flight back to the UK from Geneva departing after 13.30.
22-29 April 2018: We provide transfers between Geneva and Val d'Isère in both directions but ask you to book return flights to Geneva. The transfer from Geneva on 22 April will depart at 16.00 and on 29 April the coaches will leave our chalets from 08.00.
Obviously the earlier you book, the cheaper these flights are, and the less your holiday will cost.
If you do not book our transfers on 6 December and 22 April we will give a discount of £25 on the prices shown. On 13 December and 15 April if you do not use our flight or transfers in either direction we will give a discount of £50.