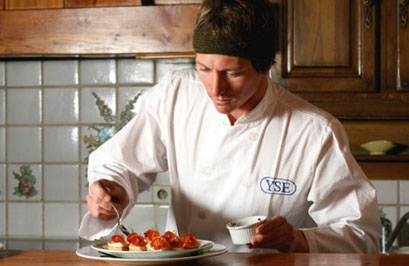 CHALET CHEF
We are now recruiting for 2017-18
We are looking for enthusiastic and experienced chefs to work in our larger chalets (for 8-17 guests) in Val d'Isère. You will be responsible for cooking breakfast, afternoon tea and three-course evening meals with canapés to a high standard six days a week. Chalet work is hard, with early starts and not much sitting down, but it is a great opportunity for creative chefs wishing to work in a relaxed and supportive environment where your menus are met with appreciation day-in-day-out.
We welcome applications from couples who wish to run a chalet together. However, to do this one must be a qualified and experienced chef and the other be prepared to work as a Chalet Assistant. Please complete the relevant forms for each position and send a covering email explaining that you wish to work together. This is the only combination of positions available for couples.
In addition to a reasonable wage, you will be able to ski for up to six hours on six days of the week. We provide travel to and from the UK to Val d'Isère, accommodation, food and medical insurance and the loan of skis or snowboard and boots.
How to apply
To apply as a chalet chef you must fill in two forms. First CLICK HERE TO FILL IN AN ONLINE APPLICATION FORM. Once you have completed the application form, you must then CLICK HERE TO FILL IN A MENU PLAN. It is very important that you fill in BOTH forms. We study your menus carefully: please suggest the best meals you can actually cook (regardless of budget).
All staff enquiries, please email: staff@yseski.co.uk